9 things we learned from ticketing 90 live stream concerts (Part 1)


Over the past 5 months, we've had the pleasure of working with incredible artists to produce and ticket more than 90 high-quality live stream concerts.  It's been a tremendous period of learning and growth for the Seated team - and we're grateful and excited to continue bringing live music to fans across the globe.
Back in September, we cracked the $1M mark for virtual tickets sold on Seated.  After a quick team celebration of this mini-milestone, we decided to take the opportunity to dive into our data to see what we could uncover.
We're now launching a multi-part series on our blog to share the insights we've learned over the past few months of ticketing live streams.  We hope our learnings can make this new virtual concerts industry stronger for everyone, regardless of which platform you choose for your event.
-David McKay / CEO & Co-founder of Seated
---
#1. The day-of-show lift is massive.  More than 50% of all ticket sales happen in the 48 hours leading up to the event.


From our internal sales data, we've found that 37.01% of all sales to date have come on the day of the event.  While the day of announcement also drives significant sales (12.84%), the day before the event has actually driven slightly more sales (13.23%).   (Note: This is basically the inverse of what we see in the traditional world of ticketing).

Why is this?  For one, we think virtual events give fans the opportunity to be more impulsive.  There is no need to rally together a group of friends or make travel arrangements in order to attend a concert.  Fans can make a same-day decision independently and spontaneously. On the flip side, when fans find out about a virtual event well in advance, there typically isn't any clear incentive to purchase early, since there are obviously no premium reserved seats and there is no risk of the event selling out.

To combat this, we've seen artists like Andrew Bird take on traditional show pricing models, such as "advance" and "day-of-show."  Artists are incentivizing their fans to buy earlier - and are charging slightly more to the fans who are making impulsive decisions on the day of the event.
However, we've also been trying a few different things to lean into this impulse-driven behavior.

For example, for Mandolin Orange's live stream, we simulcasted the first song to their YouTube and Facebook page as a "free preview," and then drove everyone into the paid stream to watch the rest of the event.  Hundreds of additional purchases came in following that quick one-song preview, even after the stream had already started.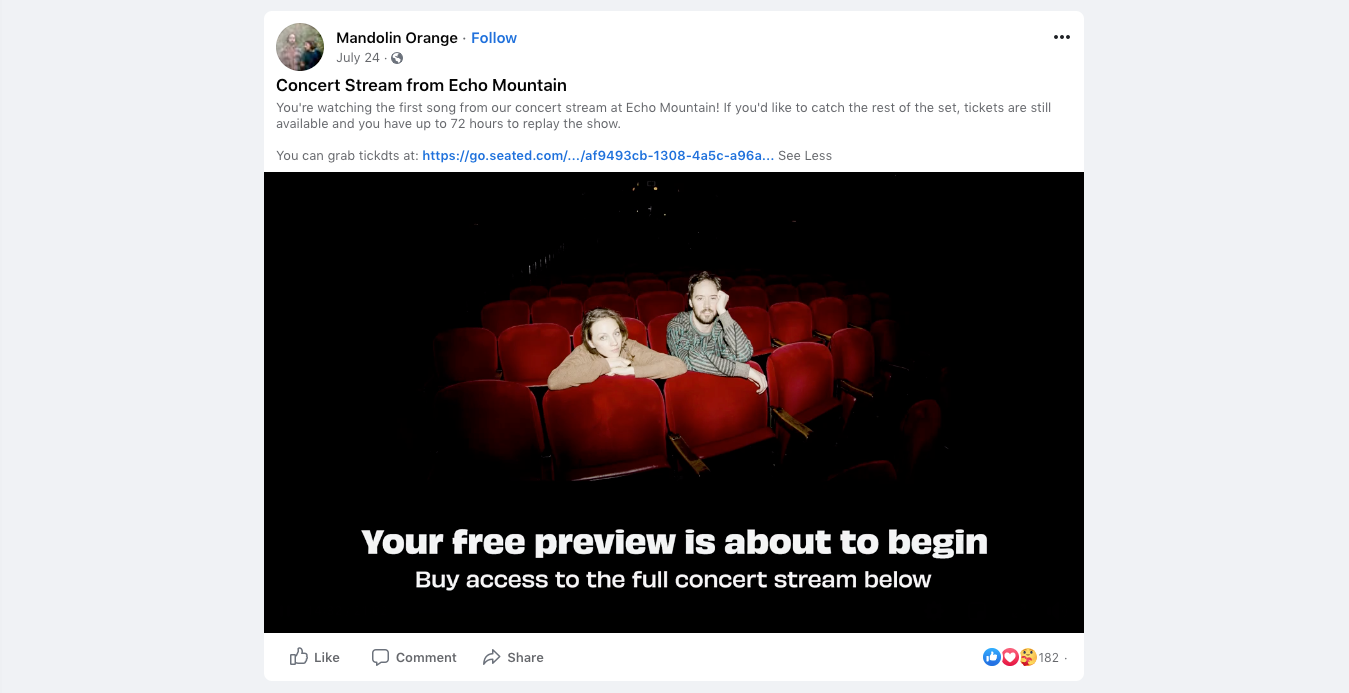 This is because both Facebook and YouTube's algorithm favor live videos. According Adam Mosseri, Facebook's former Head of News Feed, live videos receive 600% more engagement on the platform, and interactions are a key metric for ranking higher in followers' news feeds.  Instagram also favors live videos over other content - specifically sending push notifications to followers and promoting live stories to the front of their feeds.  

On the day of the event, we've seen artists post live behind the scenes footage of their streaming setup as a way to ramp up fan excitement - and we've also seen fans share their live stream viewing setups in response (see #3 below).  From our experience, all of this additional day-of promotion helps build excitement and drive additional sales. It's definitely to your benefit to tap into these channels.

💡 Advice: Leverage this momentum and ramp up promotion in the 48 hours leading up to the event.  Try simulcasting to multiple free channels to reach even more fans. (Note: We used Restream.io's RTMP Pull feature in combination with OBS.  We'll describe that setup in a more technical blog post in coming weeks).
---
#2. Partnering with independent venues and promoters increased sales by 30% or more.
Early on, we noticed that independent venues were playing a crucial role in live stream marketing. As promoter Dan Smalls of DSP Shows told us, they were looking for ways to "remain relevant with our ticket buyers in our communities," and promoting live streams was a way for them to stay engaged.
Since then, we've partnered with over 200+ independent venues and promoters to create an extensive affiliate network for every live stream on our platform. Artists have offered promoters a percentage of the ticket price for each sale they help drive in exchange for co-promoting the event.
While this wasn't something we invented, it was certainly something we've been able to perfect over the past few months. Initially, we were manually sending emails to promoters, creating landing pages, sharing art assets, generating sales reports, and sending payments.  Eventually, we launched a self-serve platform to simplify the process for everyone involved.  After launching the self-serve platform, we saw a 2x increase in promoter participation.  We've now consistently seen promoters and venues account for 30% of all live stream sales.

However, this also means the alternative is true.  The artist's own promotional efforts account for a whopping 70% of their live stream sales.  There are likely even more untapped promotional channels that artists can continue to utilize to reach a larger audience.

💡 Advice: Build affiliate relationships with promoters, venues, and other outlets to leverage their additional reach.
---
#3. The vast majority of fans are watching on their computer or casting to their TV.  Less than 15% are watching on their phones.  
Instagram Live and Facebook Live are great ways for fans to watch spontaneous real-time content from their favorite artists.  These platforms are perfect for the types of videos that are best consumed on mobile devices.  However, we're seeing that fans engage in paid ticketed live streams in a much different way.  

While the vast majority of purchases (63.08%) are taking place on a mobile device, less than 15% choose to watch the actual live stream on their phone.  

Early on, our customer support team noticed that the #1 question we were getting leading up to any live stream was "How can I cast this to my TV?"  Our team ended up creating a detailed FAQ article in order to help walk fans through the process of casting the stream to their Apple TV, Chromecast, Roku, Fire TV, or other smart TV devices.  As a result, we saw even more fans choosing to watch on larger screens.

Anecdotally, we've also noticed that fans are still accessing the chat room from their mobile device, likely as a "second screen" while they watch the performance full-screen from a computer or smart TV.  We're now investing into making this second screen chat experience even easier for full-screen viewers.

In future blog posts, we'll get into the importance of producing high-quality live streams for bigger screens, and offer suggestions for how to offer the best experience for your fans.  In the meantime, it's important to know that your fans are consuming this paid content in a very different way and your stream's production should cater to that type of viewing experience.

💡 Advice: Tailor your performance to the big screen.
---
Thanks for reading Part 1.  Check out Part 2 HERE.  If there is anything else you're curious about or any questions you want answered, shoot me an email at david [at] seated [dot] com and we'll include it in future posts.